🚀 The fleet management tool that empowers employees and saves you time.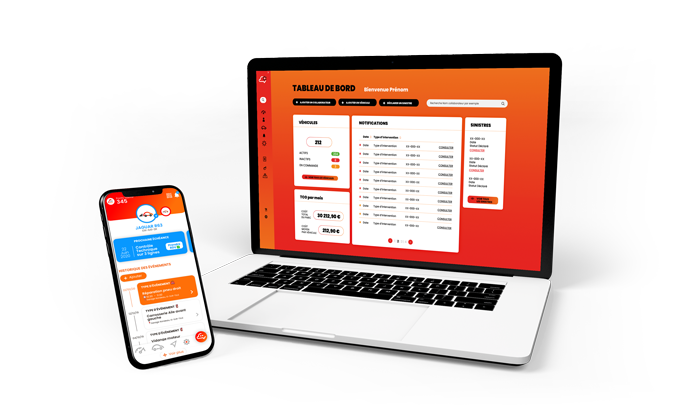 We suggest that you delegate part of the management of the vehicle
to your collaborator and to motivate him for it!
Concretely,
CodeNekt for Fleet is:
➡️ an application in SaaS mode
quick and easy to set up
✅ Employee management
✅ Vehicle management
✅ Claims management
✅ Employee incentives
✅ Performance and cost of the car fleet
✅ Vehicle maintenance tracking
➡️ a mobile app
who rewards him for his involvement
✅ Vehicle sheet
✅ Deadline notification
✅ Maintenance reminder
✅ Geolocated affiliated garages
✅ Incentive program
✅ Valid for personal vehicle
CodeNekt for Fleet, the fleet management tool
that empowers employees and saves you time.
Employees manage the maintenance of their vehicle independently.
Creation of the vehicle sheet by the employee
Reminder of maintenance and administrative deadlines
Geolocation of garages validated by the company for interventions
Upload invoices
you MAKE BETTER USE OF YOUR time
Less information to enter!​
Service reports are transmitted automatically and live in the SaaS solution.
Connection of the mobile app with the SaaS solution in real time
User data is integrated into the management module
Notifications of reminders in case the employee forgets
You incentivize your teams AND IT COST YOU NOTHING
The more the user uses the app,
the more points he earns
Each point is transformed into advantages with our partners.
The employee collects points each time the app is used
Your team can also manage their personal vehicle(s) and earn more points
Better adhesion to a consumer application
You can select the partnerships and benefits that best match your DNA
You can report at a glance!
The dashboard is simple and straight to the point.
Select the main indicators on the home page!
Total fleet cost, average cost, number of active and inactive vehicles,
visible on the home page
Notifications of upcoming and overdue deadlines
Overview of current claims
Average cost, maintenance cost, claims cost are accessible from the dashboard
YOU SECURE YOUR DATA THANKS TO NFTS​
Tamper-proof & indelible​
By using the blockchain to store the data of your employees and your vehicles, we transform them into NFT
An uploaded document or validated information cannot be deleted
No more risk of falsification of vehicle data
GDPR: The user chooses the information he wants to share
If we can help Nathan with the interview
of his car,
then we can accompany Béatrice who is in charge of a fleet of 30 vehicles
within his SME!
⭐️⭐️⭐️⭐️⭐️
The whole life of my car on my smartphone All the information related to my car is in my phone. No more paperwork, thank you!
NathanS.
⭐️⭐️⭐️⭐️⭐️
Great app! I had been looking for a long time for a way to archive all my maintenance invoices, it's really practical. Can't wait to see the evolution!
JoVi
⭐️⭐️⭐️⭐️⭐️
Great app to do it all.
Finally an app that reminds me when to do my technical check. Tired of taking plums. Plus super easy to use.
Fadzilla
⭐️⭐️⭐️⭐️⭐️
Very handy app.
All my documents related to my car are on this app!!
AKDmé